We wanted to add a little more luxury to the often mundane task of washing your hands.
Introducing our NEWEST LAUNCH – HAND WASH .liberation! A whole TWO years in the making, this is our hydrating hand wash formulated to be kind to your skin with moisturising ingredients (such as Vitamin E and Glycerin) and plant derived cleansers that will leave your hands feeling soft and supple.
We designed this hand wash with a vision to create the perfect remedy to all of our frequent hand washing rituals.
We're also excited to share that our hydrating hand wash is scented with our NEW fragrance "liberation". What does liberation smell like? Think autumnal walks and cosy fireside chesterfields with its rich and comforting notes of violet, cardamom and dry wood. Designed to linger on your hands long after you have washed them. 
Watch HAND WASH .liberation in action here.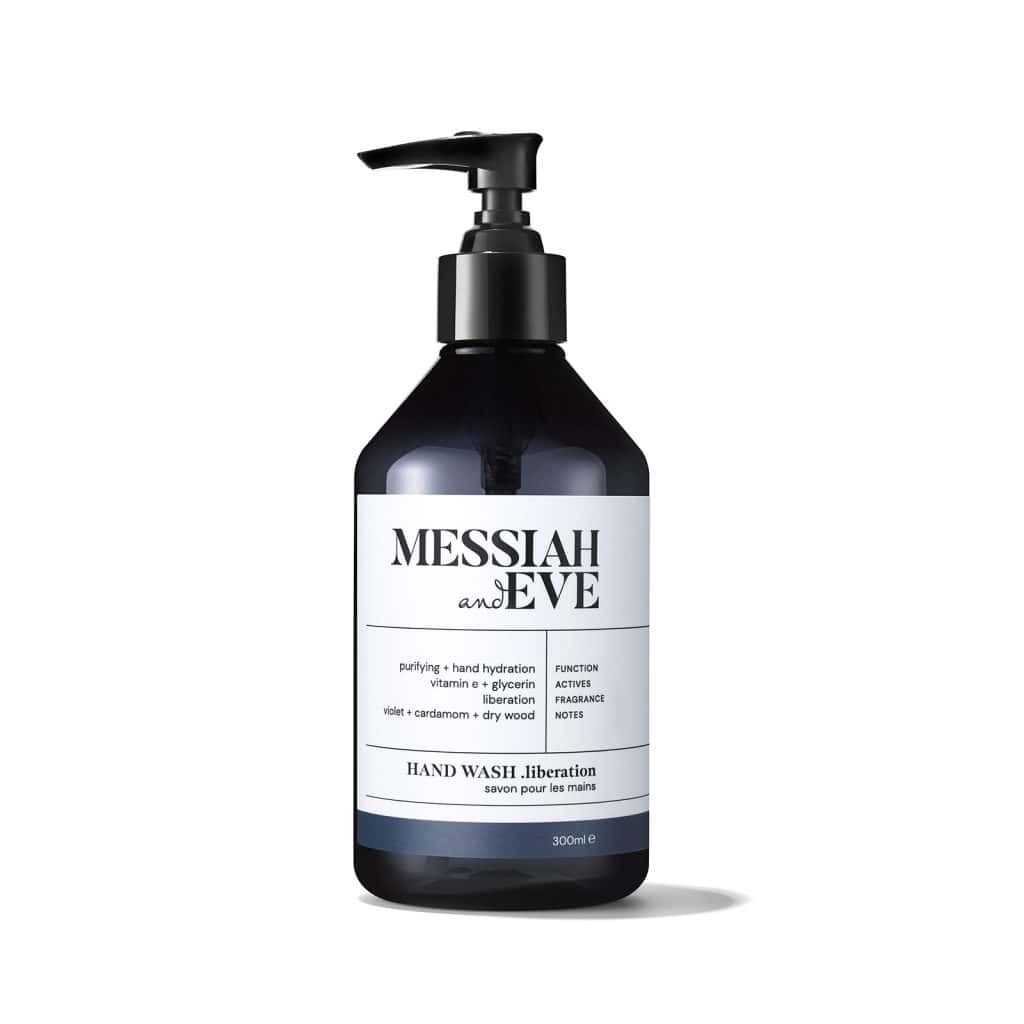 HAND WASH .liberation
The sink-side game-changer for daily hand hydration. Our restorative hand wash balances effective and frequent cleansing with moisture-locking ingredients to beat post wash dryness.
Hand wash is for showing off and our newest fine fragrance liberation is no exception – think autumnal walks and fireside chesterfields with a long lasting impact.
Get up close and personal with us at our London pop up shops this December.
We're excited to offer this chance for you to explore our entire collection in person – smell our fine fragrance blends and try our best-selling silky Body Cream .01 before you buy.
If you're more of an in-store (or last minute) shopper, this is the perfect opportunity to get your Christmas shopping done or treat yourself to some luxury sink-side essentials. We look forward to meeting you there!
London Pop Up Locations
Seekd Christmas Pop Up
When: 6th – 24th December
Where: One New Change Shopping Centre, London, EC4M 9AF (near St Paul's Cathedral)
~~~
Seekology Christmas Pop Up
When: 15th – 24th December
Where: 2 Blenheim Crescent, Notting Hill. W11 1NN
Click here to take a virtual tour of our pop up locations over on our Instagram Story Highlights.
This month we're getting up close and personal with Waterin® the trade name for the plant-derived ingredient Saccharide Isomerate.
A super humectant (moisturising ingredient that hydrates by drawing moisture to the top layer of the skin) that acts just like well-known hydration hero Hyaluronic Acid by binding many times its own weight in water to keep moisture locked into your skin. However, unlike Hyaluronic Acid, it doesn't wash away easily which is why we wanted to hero this hydration magnet in both our Body Cleanser .01 and Body Cleanser .02 to provide lasting deep moisturisation and prevent post-shower dryness. 
At a Glance: The benefits of Saccharide Isomerate
It helps to maintain your skin's natural moisture levels over time – perfect for these upcoming winter months!
Leaves skin feeling smooth, plump and supple. 
If you struggle with super dry, sensitive or itchy skin it can provide lasting hydrating relief and leave your skin feeling comfortable and healthier.
Last week, at the Marie Claire Skin Awards, we were honoured to have won TWO "Highly Commended" awards for both Body Cleanser 01 and Body Cleanser 02.
For us, at just 3 months old, it was a major win and also fun to know that it's hard to pick a favourite between our cleansers. 
Until next year! Skin Awards 2022 – watch this space. 😉
This month we're getting up close and personal with niacinamide. Great for all skin types, we consider it a valuable player in the skincare world. 
Niacinamide is a lightweight form of vitamin B3 and a hero ingredient when it comes to strengthening that all important skin barrier. It does this by helping to boost the production of ceramides in the skin. A healthy, functioning skin barrier tends to lead to more youthful, hydrated and less irritated skin. A quality that we shouldn't reserve only for the face – take it from top to toe!
This jack of all trades ingredient is also great for oily/acne-prone skin as it helps regulate oil production and offers anti-inflammatory benefits to soothe blemishes and clean out pores. A gentle all-rounder that stars in our Body Cleanser 02 to reveal fresh, radiant and smoother skin.
At a glance: The skincare benefits of niacinamide
Strengthens skin barrier
Brightens dull complexions and improves skin texture
Rebalances oily/combination skin without stripping the skin
Gentle and lightweight enough to be used by most skin types – including sensitive skins!
BODY CLEANSER .02
Same day, newly exfoliated skin. Our daily skin smoother infused with AHAs and niacinamide gently reveals fresh, radiant skin – without the scrubby mess.
WINNER Bath & Shower Hero – Get the Gloss Beauty and Wellness Awards 2021
HIGHLY COMMENDED Best Shower Product – Marie Claire UK Skin Awards 2021
This month we're getting up close and personal with squalane – the ingredient everyone's reaching for to slather on their skin.
You'll find plant-derived squalane most commonly in facial oils, serums and creams but let's not forget to take it below the neck and reap those exceptional hydrating benefits.
What is plant-derived squalane?
Our bodies naturally produce "squalene" to keep our skin plump and youthful. However, as we age our skin's ability to produce this lessens. That's where squalane comes in. Derived from olives, this is a hydrolysed (more stable) version of squalene that can be used in formulations so we can get those moisturising effects. And because it's an ingredient our body already understands, it's gentle and suitable enough for all skin types.
The skincare benefits
Squalane is the hero ingredient that locks in moisture creating a barrier between your skin and the outside world. It will leave you with smoother, softer and more supple skin. And of course, better moisturised skin leads to healthier, glowing complexions below the neck.
This lightweight hydrator and natural antioxidant works best as a final layer over the skin. After a shower with one of our hydrating cleansers, complete your body care routine by massaging Body Cream .01 onto dry or damp skin to seal in that moisture. Hello silky, smooth skin!
Our guide to solo soakin'. These are your bath time essentials to set the vibe for an evening of relaxation. No interruptions, just pure chill for your mind and skin.
Bath Prep
Whether you're a lover of bath salts or bubbles, a nourishing soak is key. Set the scene (and the scent) with 1-2 capfuls of Bath Oil Emulsion .01 to create hydrating, silky bath water. Calming aromatic notes of thyme, verbena and vetiver will fill the air transporting you to a dreamy countryside meadow. Candles are optional but recommended.
The Entertainment
Silent bath soakers – we salute you! But if, like us, soaking is not enough of an activity for you, we recommend delving into a juicy novel (we've listed some top reads here) or catching up on Netflix. The reality is that your laptop will likely be perched on the toilet seat for this but hey – it's worth it!
And for those of you who prefer a few tunes to chill the mood, we've curated a Spotify playlist for this exact situation. And when the playlist ends, you know you've been soaking for long enough and it's time to emerge clean, silky and relaxed.
To tipple or not to tipple?
We've rounded up our team's favourite drinks to pair with their baths to give you a few ideas. Some of us are known to sip on a calming tea or just have a cold lemon water within reach but why not mix it up once in a while?
A glass of wine
A classy way to wind down after a long week. The question is – red or white?
Rhubarb Cobbler Cocktail
1. Add 35ml of Rhubarb Ginger Gin Liqueur to your glass and 15ml of lemon juice
2. Top up with prosecco and give it a stir
3. Garnish with a slice of lemon
Light & Stormy Cocktail
1. Add 50ml of Three Spirit Social Elixir to your glass with ice
2. Top up with ginger ale to taste
3. Add a squeeze and slice of fresh lime and give it a stir
Bringing you The A Team for super soft and incredibly smooth skin. Our simple 2-step body care routine encourages you to enjoy your curves and smooth surfaces all year around – it's not just about getting smooth for summer.
Step 1: Full Body Exfoliation
First, let's get physical with a quick pre-shower dry brushing session. Dry body brushing is a great way to slough away dry, flaky skin whilst stimulating blood flow and lymphatic drainage in the process. Start at your feet and work your way up using long, sweeping and gentle brush strokes towards your heart. If this is your first time dry brushing, choose a brush with softer bristles.
For gentle daily exfoliation, wash with our Body Cleanser .02 which contains fruit derived AHAs and Niacinamide for renewed, smooth skin. It also has Vitamin E, Pentativitin and Glycerin so you can feel confident you're also receiving a hydrating service.
Step 2: Top to Toe Hydration
In the same way we always remember to moisturise our face post-shower, we want to encourage you to do the same for your entire body. Our Body Cream .01 makes this easy in just a few pumps and it smells so good (of bergamot, leather and jasmine) that you will want to slather it all over.
It's an A Team of hydration heroes including plant-derived Squalane, Vitamin B5 and nourishing oils. We've also sneaked some Prebiotics in there for added skin support and a strengthened skin barrier. All packed into a silky, lightweight, fast absorbing formulation, you have no excuse not to apply even if you only have 1 minute to spare.
Looking for your next staycation page turner or books for the bath? We've got you covered with our recommended reading list to refresh your bookshelf (or Kindle).
Soak into another world.
For the fiction lovers out there we recommend these page turners. Be aware – you may lose track of time and end up reading half the book in the bath. (Luckily our Bath Oil Emulsion .01 is a softening soak).
Small Pleasures by CLARE CHAMBERS (Longlisted for the Women's Prize for Fiction 2021)
The Book Club by C.J. COOPER
The Midnight Library by MATT HAIG
The Grownup by GILLIAN FLYNN (A short read you can devour in one decent bath soak)
Get inspired by real stories and real lives.
These reads will get you thinking about where true strength lies and will inspire compassion, motivation and kindness towards others and yourself.
Stronger: Changing Everything I Knew About Women's Strength by POORNA BELL
Imitations: Six Essays by ZADIE SMITH
My Mess Is a Bit of a Life: Adventures in Anxiety by GEORGIA PRITCHETT
More Than a Woman by CAITLIN MORAN
Refill your cup.
A big part of self care is allowing yourself time to go on a journey of discovery and exploring new ideas and tools to help you be the best version of you – both for yourself and others. These reads are easy to dip into when you've got a moment.
Daring Greatly by BRENE BROWN
Big Magic by ELIZABETH GILBERT
A Manual for Being Human by DR SOPHIE MORT
You are a Badass by JEN SINCERO
Grit by ANGELA DUCKWORTH
The key is in the word "care". Answer us honestly, how many of those lotions and potions in your "skincare collection" are for skin below the neck?
Yes, we thought so. Caring for skin beyond the face is a routine we've all neglected in the past – and we don't blame you. Like us, you probably don't have time every day to slather on a 5-step body care routine. And like us, you've probably been stumped to find a decent body wash that does more than just pay lip service to that "lather and clean" feeling.
But oh do we have good news for you! Introducing the MESSIAH and EVE body care collection aka " day 1 of good skin days that aren't just for your face". We've taken the basic body care steps of washing and moisturising and elevated them with some pretty badass upgrades.
Skin CARING Ingredients
All of our formulations are infused with vegan results-driven ingredients and not just the pedestrian ones. We're talking plant-derived squalane, niacinamide, prebiotics, nourishing oils, amino acids, AHAS.
GOOD SMELLING Skin
And by "good" we mean sexy, sophisticated, smells like luxury fragrance came knocking. Our formulations are infused with bespoke unisex fine fragrance blends that will leave a whipser of subtle lasting scent across your skin. We advocate smelling good for yourself first and it's a bonus if everyone starts asking you "what scent are you wearing?". We recommend a chill response of "oh, that's just my body cream".
COVETABLE Design
Whilst being sustainably and responsibly sourced and designed was our priority, creating bottles that look good in your bathroom was also important. Sleek, minimal, functional and modern – you won't want to hide these bottles when guests come over.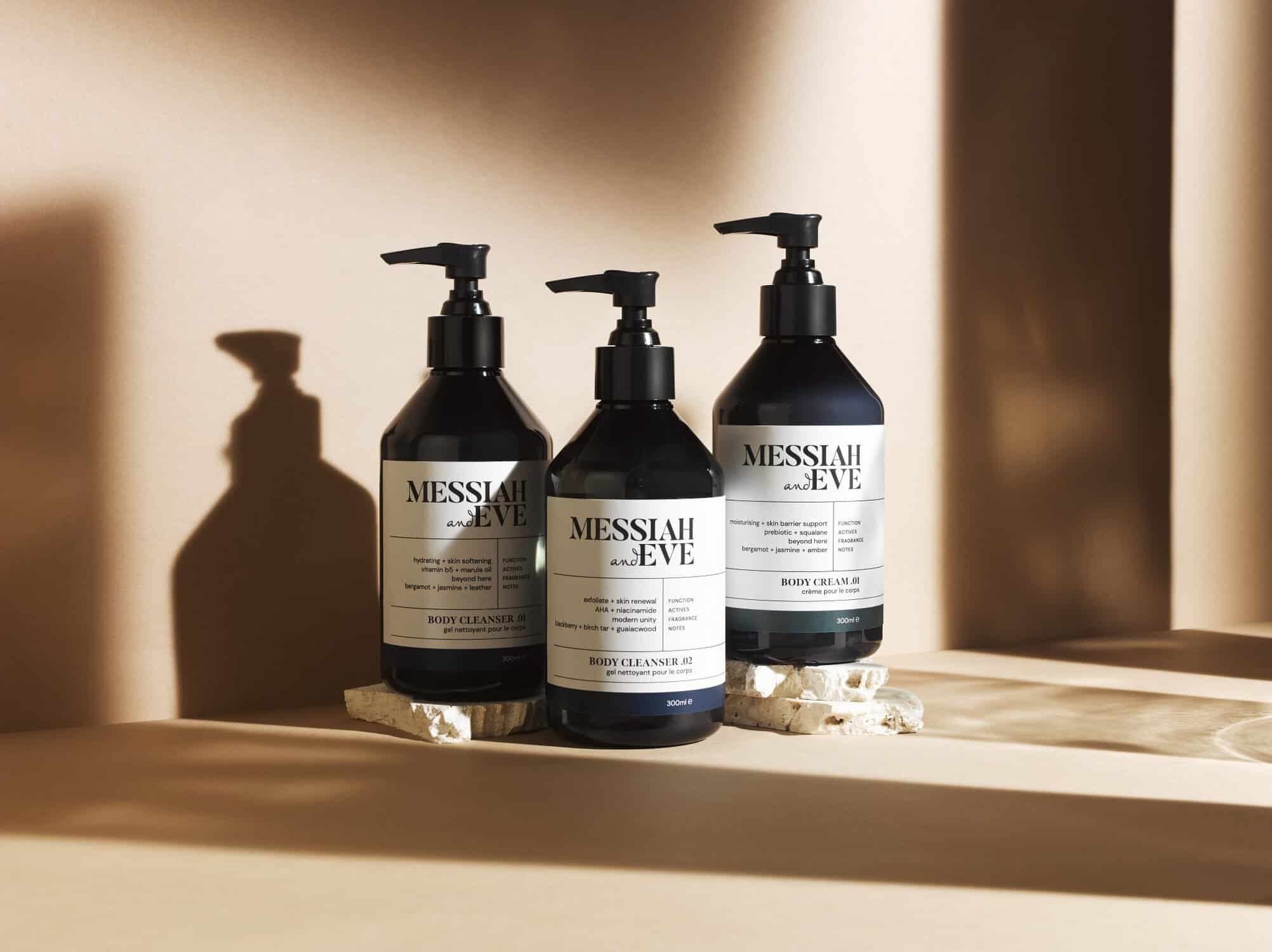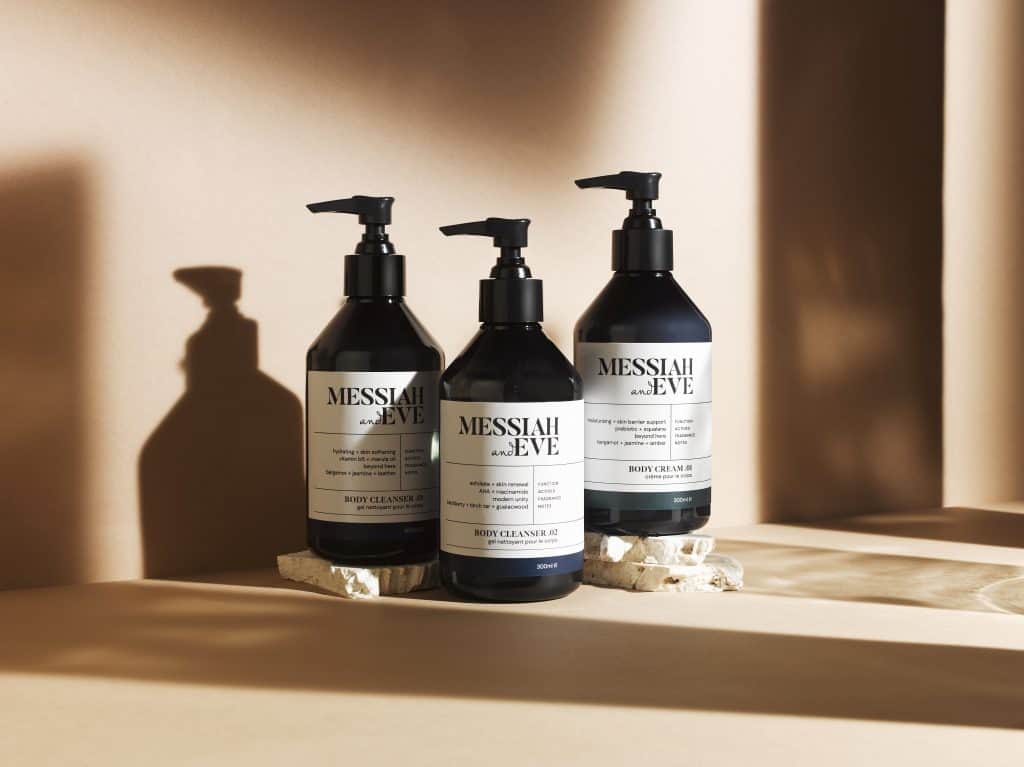 Don't miss out. Sign up to our newsletter to get your 10% off code.